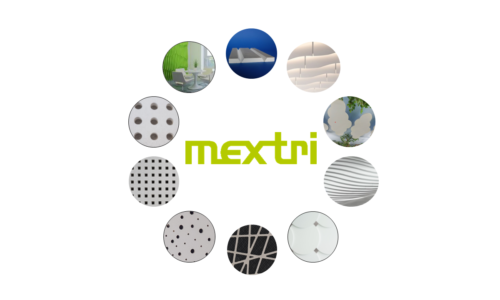 We focus on dynamic development
The start of 2022 has brought many a change at MEXTRI – we are expanding our offer and our team of experts too.
Thus far, our brand has been perceived as a supplier of prefabricated, gypsum-based interior finishes. Our main products at MEXTRI were milled and customised gypsum boards used to produce forms, prefabricated elements in various shapes and sizes, ready-to-use gypsum board elements and inspection flaps. For more than 15 years, they have been installed in thousands of interiors already.
The new year brings a brand new chapter to our company. The MEXTRI's mission has been, right from the very beginning, to provide top-quality solutions, often tailor-made and adapted to interior design needs. Nowadays, customers expect so much more from their interiors than simply aesthetics and acoustic comfort. Therefore, we add new product groups to our offer which allow you to shape the acoustic environment of your rooms exactly the way you want to – says Stanisław Mietła, creator of the MEXTRI brand and President of the company.
The new products will be available in a wide range of materials, shapes, colours and sizes. Thereby, they'll easily meet the individual requirements of architects and investors.
All the current team is involved in the changes taking place at MEXTRI. Now they've been joined by Maciej Kiepal as the Managing Director and Witold Zaleta as the Supply Chain Director.