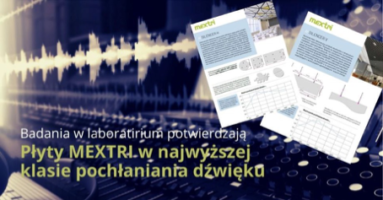 Highest sound absorption class for the MEXTRI boards – laboratory tests confirm
We have completed the tests at the Building Research Institute. The results provided by the Laboratory for Thermal Physics, Acoustics and the Environment confirm that the MEXTRI glass wool boards used for island ceilings, baffles and acoustic wall cladding are the highest sound absorption class (A class).
The test was carried out in a reverberation chamber according to Polish standard PN-EN ISO 354:2005. The results confirmed that the MEXTRI panels absorb sound at aW=1.0 (PN-EN ISO 11654:1999).
Thus, the highest absorption class – class A – can be claimed for these solutions. They are offered by MEXTRI as three types of decorative, acoustic interior elements:
SILENCER H – are decorative elements commonly referred to as island ceilings. They are available in square, rectangular and circular modules. The production capacity of the MEXTRI plant in Poland allows us to cut elements of any shape and size.
SILENCER V – decorative acoustic interior elements with a linear design. The vertical baffles can be suspended under the ceiling either individually or in a group. Thanks to the MEXTRI's production capabilities, customers can now order them in individual dimensions or with a customised cut-out.
Acoustic wall cladding.
It's an alternative to classic acoustic suspended ceilings and wall claddings.
Full specifications of the reverberation noise reduction products tested by the Building Research Institute can be found in the technical sheets of the individual solutions: https://mextri.pl/materialy-do-pobrania/